I frequently get asked for commentary references. So today, I wanted to take a few minutes to share my favorite commentary and why it has earned this place in my library. While I have many various commentaries that I use for my studies, the IVP Bible Backgrounds Commentary (IVPBBC) is usually my starting place. This commentary covers both the Old Testament and the New Testament in two volumes.
The reason I love this commentary so much is that it gives you historical and/or cultural background information on many elements in the Bible. The modern reader is often not familiar with such information, and the IVPBBC provides this information while minimizing the amount of interpretation of the meaning of the particular verse. That interpretation is reduced is very helpful because I am a firm believer in reading the actual Bible text one is studying first before consulting any commentary for interpretation. By utilizing Logos Bible Software's parallel view and linking my Bible with this commentary, the IVPBBC scrolls along with my Bible as I read. When I come across anything that seems out of the ordinary that may need some cultural background to explain, I can instantly glance over to gain a better cultural understanding. For example, I have recently been studying Revelation chapters 2-3, and as I was reading the letter to the church at Laodicea, I found it odd the mention that Jesus wanted them to be either "hot or cold" but because they are "lukewarm" he will vomit them out of his mouth. I found it strange that Jesus would want someone to be "cold," as I have usually associated cold with the state of lacking in faith. As I glanced over to the IVPBBC, I was enlightened with the following:
3:15–16. Cold water (and sometimes spiced hot water) was preferred for drinking, and hot water for bathing, but Laodicea lacked a natural water supply. Water piped in from hot springs six miles to the south, like any cold water that could have been procured from the mountains, would be lukewarm by the time it reached Laodicea. Although water could be heated, the natural lukewarmness of local water (in contrast with the hot water available at nearby Hierapolis) was undoubtedly a standard complaint of local residents, most of whom had an otherwise comfortable lifestyle. (Their imported water was also full of sediment, though better, said the geographer Strabo, than the water of Hierapolis.) Jesus says: "Were you hot [i.e., for bathing] or cold [i.e., for drinking], you would be useful; but as it is, I feel toward you the way you feel toward your water supply—you make me sick."
Suddenly this passage makes much more sense! Jesus isn't saying that he'd rather you to be all in or all out. Instead, he is using a geographical oddity that the local audience would be familiar with to speak to a greater truth.
The IVPBBC has frequently been the starting point for many more in-depth studies into various areas for myself. Finding the right question to ask is often the hardest part of studying Scripture, and this commentary provides essential information to get you started on your quest. I highly recommend considering this book as the start.
While this commentary is available in hard copy, I personally prefer using it via Logos Bible Software because of how it links with the Bible. Not only will it follow along with your reading of the Bible, but you can also click on the verse numbers to instantly see the verse
(see GIF image below). Plus, it is such a time saver to be able to highlight on the go on my phone or tablet, then be able to get on my computer at home to find my highlights and then copy and paste them into my presentation.
You can purchase these commentaries from Logos here:
https://www.logos.com/product/166633/ivp-bible-background-commentary-old-testament-and-new-testament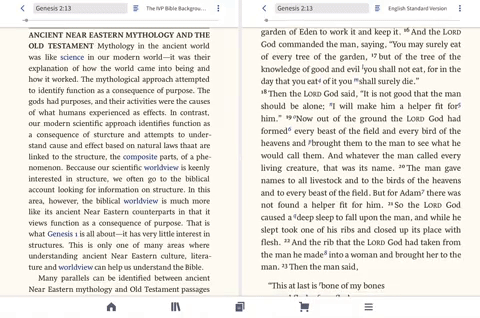 *Note: I am partnered with Logos Bible Software. Any purchases made after clicking these links will benefit Faith of Messiah Ministries. Thank you for your consideration